Episodes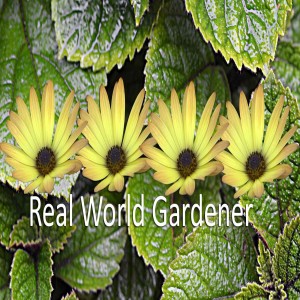 Sunday Mar 15, 2015
Sunday Mar 15, 2015
 REAL WORLD GARDENER Wed. 5pm 2RRR 88.5fm Sydney, streaming live at www.2rrr.org.au and Across Australia on the Community Radio Network. www.realworldgardener.com
REALWORLD GARDENER NOW ON FACEBOOK
Real World Gardener is funded by the Community Broadcasting Foundation (CBF).
The complete CRN edition of RWG is available on http://www.cpod.org.au/ , just click on 2RRR to find this week's edition. The new theme is sung by Harry Hughes from his album Songs of the Garden. You can hear samples of the album from the website
DESIGN ELEMENTS
with Chris Owen, Landscape Designer.
Rooftop Gardens part1.
Modern building disguised at Alhambra Palace, Granada, Spain. photo M Cannon
You might find this hard to believe but in ancient Mesopotamia (4th millennium BC–600 BC) the citizens had plantings of trees and shrubs on aboveground terraces.
Also during Roman times - the Villa of the Mysteries in Pompeii, had an elevated terrace where plants were grown.
What's more, a roof garden has also been discovered around an audience hall in Roman-Byzantine Caesarea.
So, for something completely different I'm starting a series on rooftop gardens

Rooftop gardens_Alhambra Palace, Granada photo M Cannon

A roof garden is a garden on the roof of a building.
Besides the decorative benefit, roof plantings can give you food, temperature control, look great, provide habitats or corridors for wildlife, and in large scale it may even have ecological benefits.
Did you know that the practice of cultivating food on the rooftop of buildings is sometimes referred to as rooftop farming? Rooftop farming is usually done using green roof, hydroponics, aeroponics or air-dynaponics systems or container gardens.