Episodes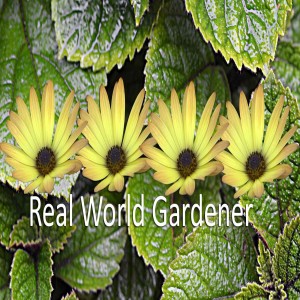 Sunday Apr 26, 2015
Sunday Apr 26, 2015
REAL WORLD GARDENER Wed. 5pm 2RRR 88.5fm Sydney, streaming live at www.2rrr.org.au and Across Australia on the Community Radio Network. www.realworldgardener.com
REALWORLD GARDENER NOW ON FACEBOOK
Real World Gardener is funded by the Community Broadcasting Foundation (CBF).
The complete CRN edition of RWG is available on http://www.cpod.org.au/ , just click on 2RRR to find this week's edition. The new theme is sung by Harry Hughes from his album Songs of the Garden. You can hear samples of the album from the website www.songsofthegarden.com
PLANT OF THE WEEK
with Jeremy Critchley www.thegreengallery.com.au
and Karen Smith www.hortjournal.com.au
Some of you may know Euphorbias in the perennial border.
Did you know that the variation within this genus is amazing, some people might even say awesome.
 From low-growing garden weeds called petty spurge to giant, cactus-like succulents.
Segue to an annual called Gypsophila or baby's breath. What do they have in common with several newish cultivars of Euphorbia for your garden
Euphorbia Diamond Frost
The petals are actually small and dainty like baby's breath, but there are so many of them that the leaves are scarcely visible.
These new delicate looking but tough, high impact Euphorbia plants flower every day of the year in warmer climates.
Pink sparkle
Star Dust White Sparkle' and Stardust 'Pink Sparkle are more compact than Diamond Frost and are ideal for patio pots and garden borders in full sun positions.
They grow to a maximum of 60cm x 60cm and can be pruned back quite hard should they get leggy.
Heat and drought tolerant, a truly low maintenance plant.
Note:Euphorbias all produce a mostly white latex which they oozes out of the stems when cut, and this sap is often toxic.
CULTIVATION TIPS-Euphorbias are easy plants to grow.
Most are summer growers and require a little watering and feeding during the warmer months.
Euphorbia Diamond Frost and the other new cultivars are not frost hardy, unless kept under cover in the colder months.
All of these Euphorbias are extremely tolerant of hot dry weather and perform in hot sun all day.
Keep them almost completely dry in winter.
To maintain their characteristics shapes they need sun or partial sun. Well drained soil and good ventilation are important.