Episodes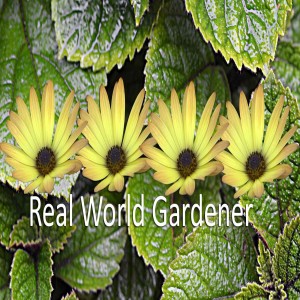 Monday Feb 24, 2014
Monday Feb 24, 2014
REAL WORLD GARDENER Wed. 5pm 2RRR 88.5fm Sydney, streaming live at www.2rrr.org.au and Across Australia on the Community Radio Network. www.realworldgardener.com
Real World Gardener is funded by the Community Broadcasting Foundation
REALWORLD GARDENER NOW ON FACEBOOK
The complete CRN edition of RWG is available on http://www.cpod.org.au/ , just click on 2RRR to find this week's edition. The new theme is sung by Harry Hughes from his album Songs of the Garden. You can hear samples of the album from the website www.songsofthegarden.com

DESIGN ELEMENTS with landscape designer Louise McDaid
The design series 'green gardens started a couple of weeks ago, and green as in the colour, and not any other meaning.

All the non-living things in your garden include not just rocks, but structures like pergolas, fences, gates, arbours, ponds, pots and so on.
Sure, you think it's easy, but how do you team these things with your garden well?
With a bit of advice and planning you can make your garden look great.
Today, landscape designer Louise, looks at man-made structures and how they fit into this green theme.

Part of your garden will probably have an outdoor area for playing, eating, sitting etc - either lawn of some description, deck or a paved area.


Lawn and a green garden can create a VERY green scene – try to use greens different to the lawn colour for plants that are beside it, otherwise it becomes a huge green mass – I like the texture of a strappy leaf plant next to a lawn rather than a small leaf plant used for little hedges – it's a more interesting contrast


Other ground surface treatments such as gravel, permeable paving, pebbles, decomposed granite work really well with green schemes – think Mediterranean style gardens with gravel and brick and mostly green plants – it's subtle, and breaks up the green attractively
Green pots might sound too much, but if you make them glazed, the shininess adds an extra element to your garden.
Perhaps use a mulch of green glass for a really modern look, or artwork inspired by the colour green or with a green theme.
Artwork in the garden, of course, something to think about.
It' s only limited by your imagination.