Episodes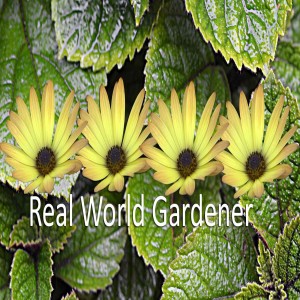 Friday Jul 15, 2016
Friday Jul 15, 2016
REAL WORLD GARDENER Wed. 5pm 2RRR 88.5fm Sydney, streaming live at www.2rrr.org.au  and Across Australia on the Community Radio Network. www.realworldgardener.com
REALWORLD GARDENER NOW ON FACEBOOK The complete CRN edition of RWG is available on http://www.cpod.org.au/ , just click on 2RRR to find this week's edition.

DESIGN ELEMENTS
Climbing Plants for a Temperate Climate
Not all climbers take over your garden and not all climbers, hardly any really, are maintenance free.
Stephanotis floribunda photo M Cannon
But if you choose carefully, you can fit a number of climbers into your garden to give you maximum benefit of luxurious green foliage and scented or unscented flowers.
This week it's about climbers that are suited for a temperate climate, but that doesn't mean you couldn't grow them wherever you are.
Let's find out. I'm talking with Glenice Buck, Consulting Arborist and Landscape Designer.
Glenice mentioned
Stephanotis or Madagascar Jasmine (Stephanotis floribunda)
This is a more moderated climber which has a delicious perfume.  The fragrance is a favourite of mine. The flowers are small star shaped waxy blooms which hang in bunches. It likes a sheltered position in full to partial sun and well-drained soil.  It tends to cope with a hotter spot as long as its roots are shaded.  This climber will grow in warmer climates also.  It is tendril climber.
Hardenbergia (Hardenbergia violacea)
It is a vigorous evergreen climber that can also be grown as a ground cover in full sun to dappled shade and well-drained soil.  It has few varieties such as happy wanderer which is a purple form.  Its leaves almost look like Eucalyptus leaves.
Hardenbergia violaceae photo M Cannon
Hibbertia scandens or the Guinea Flower with bright yellow flowers and is native to Australia,