Episodes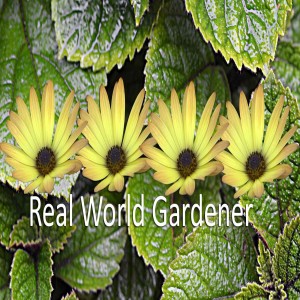 Sunday Mar 22, 2015
Sunday Mar 22, 2015
REAL WORLD GARDENER Wed. 5pm 2RRR 88.5fm Sydney, streaming live at www.2rrr.org.au and Across Australia on the Community Radio Network. www.realworldgardener.com
REALWORLD GARDENER NOW ON FACEBOOK
Real World Gardener is funded by the Community Broadcasting Foundation (CBF).
The complete CRN edition of RWG is available on http://www.cpod.org.au/ , just click on 2RRR to find this week's edition. The new theme is sung by Harry Hughes from his album Songs of the Garden. You can hear samples of the album from the website www.songsofthegarden.com
PLANT OF THE WEEK
with Karen Smith from www.hortjournal.com.au and Jeremy Critchley, owner of www.greengallery.com.au
CALIBRACHOA
Do you like Petunias but they grow too lanky for you and you keep forgetting to pinch of the dead flowers so new flowers can grow?
This plant of the week is like a petunia on steroids but with smaller flowers that are self-cleaning flowers. 
Calibrachoa Aloha Sweet Cherry, photo Jeremy Critchley
Yep, when the flowers finish they fall off themselves.
With trade names like Superbells, million bells, cherry chimes – this plant sounds like it's something you need to have at least one of in your garden.
Calibrachoa is a genus of plants in the Solanaceae (nightshade) family.
They are evergreen short-lived perennials and subshrubs with a sprawling habit, with small petunia-type flowers.
In fact they're closely related to Petunias.
These flowers are native to South America as are petunias; mainly from southern Brazil across to Peru and Chile, growing in scrub and open grassland.
While Calibrachoa 'million bells' 'cherry bells' and so on, might be a fairly new species, this dazzling little plant is a must-have in the garden.
Its name comes from the fact that it has hundreds of small, bell-like flowers which look like miniature petunias.
Its trailing habit makes it perfect for use in hanging baskets, containers or as a small area ground cover.
Flowering -Early spring to late autumn in warmer climates.