Episodes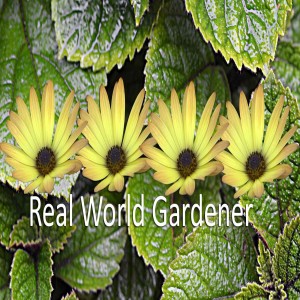 Thursday Jul 28, 2016
Thursday Jul 28, 2016
REAL WORLD GARDENER Wed. 5pm 2RRR 88.5fm Sydney, streaming live at www.2rrr.org.au  and Across Australia on the Community Radio Network. www.realworldgardener.com
REALWORLD GARDENER NOW ON FACEBOOK The complete CRN edition of RWG is available on http://www.cpod.org.au/ , just click on 2RRR to find this week's edition.

PLANT OF THE WEEK
DAVDISON PLUM Davidsonia pruriens, Davidsonia jerseyana.

Bush tucker plants are one of the hot trends in horticulture and this one is no exception.
The Davidson plum looks rather alien and Dr Seuss like the dark skinned fruit hang like bunches of large grapes from either the long narrow trunk or the branches and there's a variety to suit most climates in Australia.
As for picking the fruit, they conveniently drop to the ground when they're ripe.
Let's find out about growing it.
I'm talking with the plant panel: Karen Smith, editor of Hort Journal www.hortjournal.com.au  and Jeremy Critchley, The Green Gallery wholesale nursery owner. www.thegreengallery.com.au

Fruits are dark purple in colour, oval shaped and covered with fine almost indiscernable hairs.

Fruits contain two large seed cases with a single seed and are fibrous.
The fruit flesh is dark red when fully ripe.
D. pruriens fruits are produced in large pendulous clusters from the trunk, they are large deep purple, though the fruit flesh is slightly paler and contains more fibre than its NSW cousin..
Davidson plum trees have a narrow habit with branching on the top half to a third of the tree.


Davidsonia pruriens.  photo M Cannon
Despite their tart taste Davidson plums are known as one of the best of the native plums.
Did you know that the Davidson plum has 100x the vitamin C found in oranges?
They also contain lutien, magnesium, calcium, potassium and manganese.
Store in the fridge for a couple of days or you can freeze them.
When making jams be sure to use twice the amount of sugar, but first cut the fruit in half and remove the two stones or seeds.
You don't have to just make jam with this fruit.
You can make Davidson Plum Paste, Davidson Plum Chutney or even Davidson Plum and Ginger sauce.
Davidson Plum Chutney
500g Spanish onions, sliced
1 garlic clove
butter for frying
200g Davidson's plums, de-seeded and chopped
200g brown sugar
100g sultanas
100ml dry white wine
100ml white wine vinegar
a pinch of curry powder
1 clove
Saute' the onions and chopped garlic in a little butter until transparent. Add the remaining ingredients and boil for 1 to 2 hours or until thick stirring occasionally.